We Love you too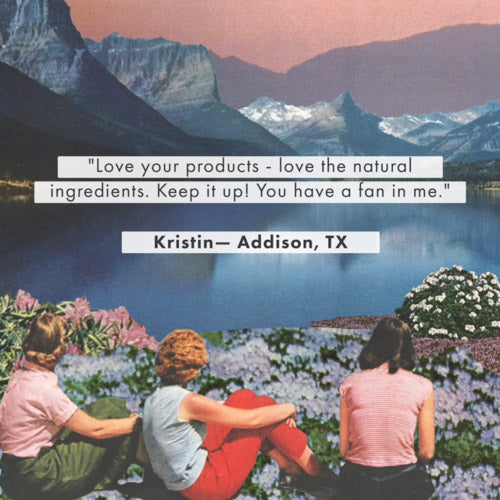 Kirstin - ADDISON, TX
Love your products - love the natural ingredients. Keep it up! You have a fan in me.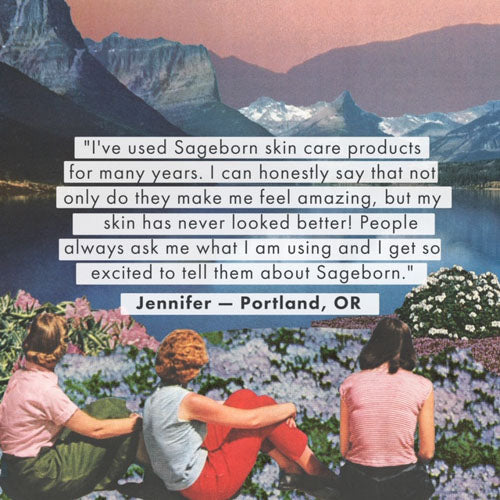 Jennifer - Portland, OR
I've used Sageborn skin care products for many years. I can honestly say that not only do they make me feel amazing, but my skin has never looked better! People always ask me what I am using and I get so excited to tell them about Sageborn.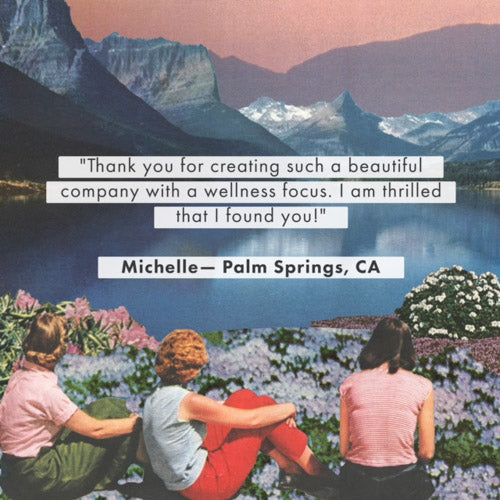 Michelle - PALM SPRINGS, CA
Thank you for creating such a beautiful company with a wellness focus. I am thrilled that I found you!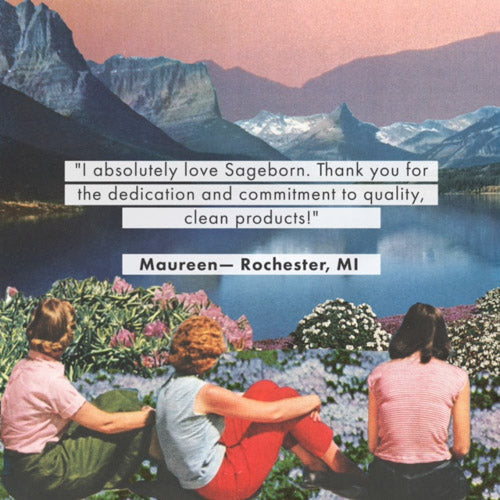 Maureen - Rochester, MI
I absolutely love Sageborn. Thank you for the dedication and commitment to quality, clean products!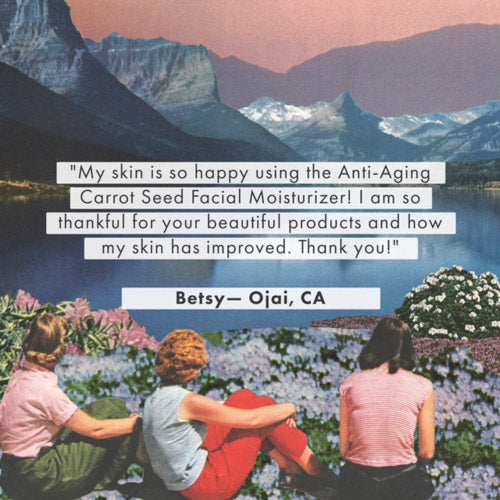 BETSY - OJAI, CA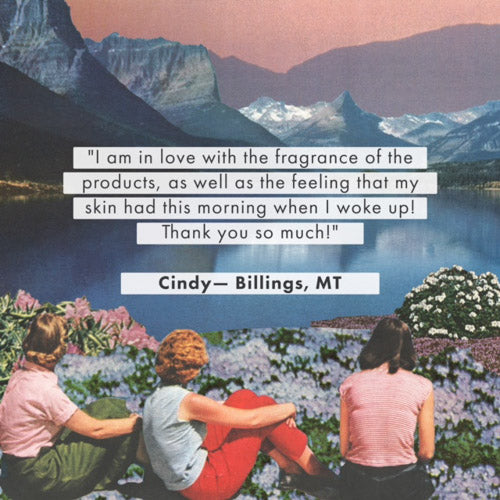 CINDY - BILLINGS, MT
I am in love with the fragrance of the products, as well as the feeling that my skin had this morning when I woke up! Thank you so much!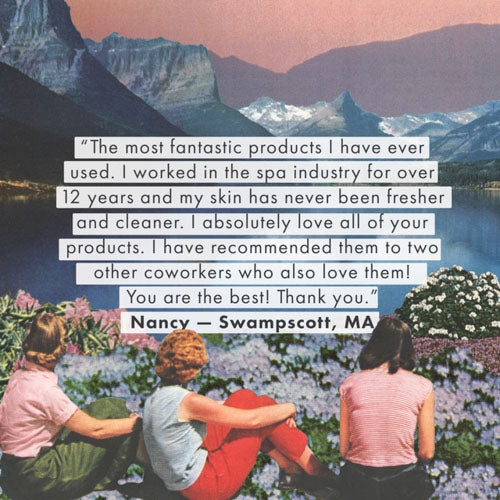 Nancy - Swampscott, MA
The most fantastic products I have ever used. I worked in the spa industry for over 12 years and my skin has never been fresher and cleaner. I absolutely love all of your products. I have recommended them to two other coworkers who also love them! You are the best! Thank you.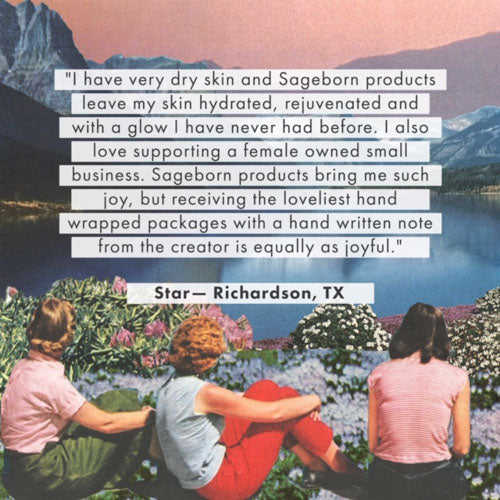 STAR - RICHARDSON, TX
I have very dry skin and Sageborn products leave my skin hydrated, rejuvenated and with a glow I have never had before. I also love supporting a female owned small business. Sageborn products bring me such joy, but receiving the loveliest hand wrapped packages with a hand written not from the creator is equally as joyful.
Bobbie - Bozeman, MT
Your lovely, mindfully crafted products are a welcome balm in these uncertain times. I feel both peace and grounded every time I use them. I'm so glad I discovered Sageborn. I look forward to sharing a lifetime of wellness with you.
NATURALLY VIBRANT SKIN
Sageborn is plant and flower based, is made with 100% natural, organic ingredients and is handcrafted at the base of the Bridger Mountains in Bozeman, Montana. 
We help people achieve vibrant skin, naturally.
Shop Sageborn
Our Ingredients
Sageborn sources and combines only the purest, highest quality ingredients to create our naturally powerful, organic skin care products. No chemicals, fillers, parabens or compromises.
We believe that what goes on your skin should be as pure - and pronounceable - as what you eat.
Shop Sageborn
RITUAL
We believe that what you put on your skin is only one half of the story. You also need to be mindful of six daily practices that make your skin glow.
LEARN MORE
DAILY PRACTICES FOR NATURALLY VIBRANT SKIN & WHOLE-PERSON HEALTH
About Sageborn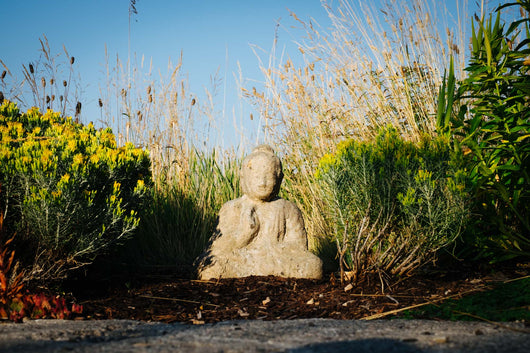 A Simple Connection To Nature
Sageborn products are handcrafted using 100% natural, organic ingredients and inspired by Montana's calming simplicity and rejuvenating connection to nature. All products are formulated with ingredients specifically selected to promote wellness inside and out.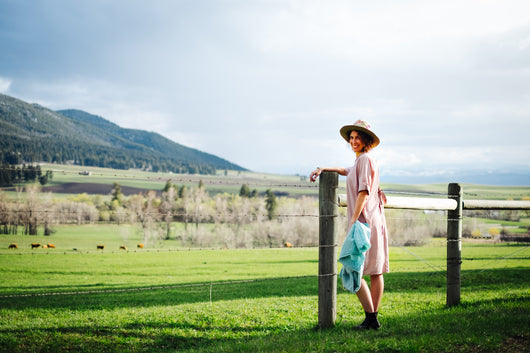 Founder, Stephanie Bigart
A native Montanan, Stephanie spent her early years exploring the vast and beautiful Beartooth Mountains with her father. It was through this childhood exposure that she gained a deep respect for Montana's calming simplicity and rejuvenating connection to nature. Sageborn exists to share these experiences, inspire wellness and celebrate natural beauty.
LEARN MORE ABOUT SAGEBORN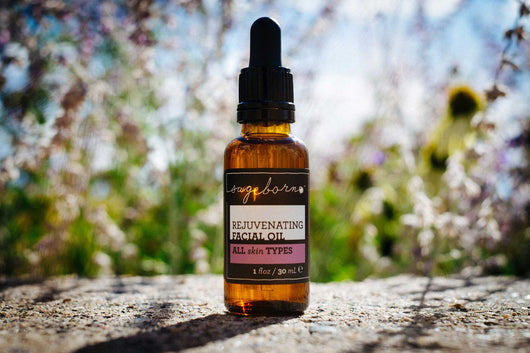 Essential Oil Based Skin Care
We believe what you put on your skin and what you put in your body should live up to the same standards. Sageborn products utilize only the highest quality, organic, plant and flower-based ingredients with no fillers, parabens, chemicals or compromises.
SMILE. YOU ARE BEAUTIFUL.